Get started with Ninja Casino on mobile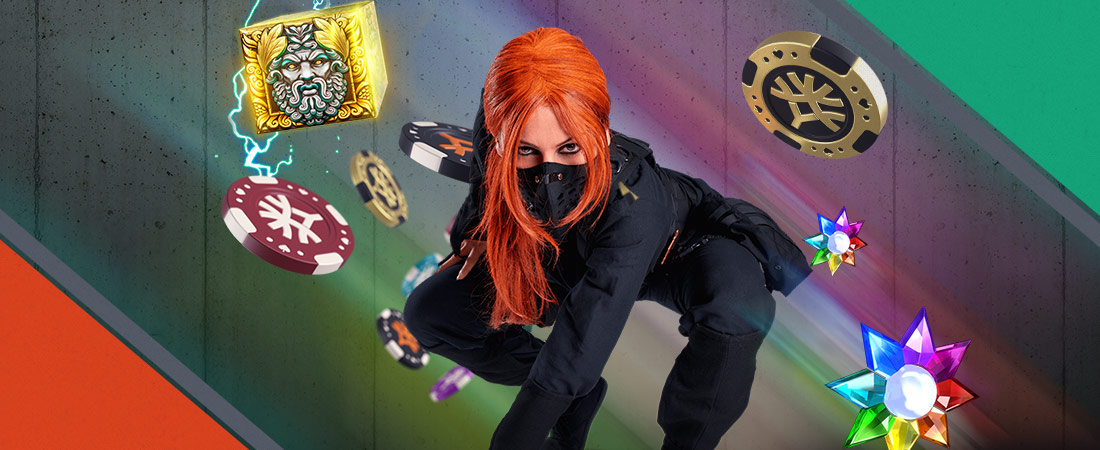 Why Ninja Casino mobile?
Enjoy playing your favourite slots and casino games wherever you are with Ninja Casino on mobile. With Ninja Casino mobile on your smartphone or tablet, it's never been so convenient or easy to play games like live roulette and slots on the go.
Fast: No registration casino – play in seconds with no lengthy sign-up process Secure: Deposit safely with robust security integration (BankID and Trustly) Direct: Play direct from your bank account – no passwords/no logins Fun: Slots, live casino and more from Netent and other big names Find out how to get started…
How to get Ninja Casino mobile on your phone or tablet
You can play any of our regular games on mobile, with all the functionality of their full-screen versions. Choose between titles from Netent, Microgaming, Play n Go and other major games developers. Get Ninja Casino for iOS on your iPhone or iPad, or via Android smartphones and tablets and select Windows devices. You don't even need to download an app – play casino on your mobile phone directly from your mobile device's web browser. Enjoy the full Ninja Casino experience in the palm of your hand. Nothing has been trimmed from the desktop version. Everything functions the same. How to play… Go online on your phone or tablet Search for Ninja Casino Or type into your browser: ninjacasino.com/mobile Click 'Deposit' Enter the amount you wish to deposit Verify yourself with your online bank Complete your deposit Play
No registration casino explained
Playing Ninja Casino on mobile is just as safe and secure as playing through your laptop or PC. Play without signing up for an account with our no registration casino experience. We work with the most innovative casino and financial technologies to ensure you do not have to give us any of your personal details when playing Ninja Casino.
How to deposit and cash out
You can deposit and withdraw in seconds with Ninja Casino. We bring you casino games without registration by integrating the robust security and speed of BankID and Trustly payment technology.
What is BankID?
BankID makes it possible for you to make secure transactions online. You are securely identified by your bank details rather than your login. You're not required to give your name, address and other personal details. It's your data, and you're in control.
What is Trustly?
Online payment technology Trustly integrates with BankID to safely and securely link Ninja Casino to your bank account. You can then make deposits and claim payouts at speed – safely and securely. Some 200 million transactions are handled every month by Trustly.
Deposit and play in 5 simple steps
Find us on your mobile or tablet browser Enter the amount you want to deposit so you can start playing Select your bank Verify your account with BankID, Security Box or Code (given to you by your bank) Start gaming Find out more about the amazing bonus promotions available for your first deposit here.
Cashing out explained
Get your winnings fast with Ninja Casino on mobile. Transfers happen instantly, so you could have your winnings within five minutes, and make deposits to get playing right away. We've got no fees on deposits or withdrawals on mobile or desktop either.
Pause and then play on
If your game freezes due to a weak internet connection, or you have to take a call when you're in the middle of play, don't worry. The game will continue in the background, so any winnings will have been collected, and any bets you've made will be taken from your deposit. You can play, pause and close your browser without losing your deposit or winnings. Simply get back online and start playing again – if you're using your BankID, it will have saved your progress. You won't need to enter your name, location, mobile number or email address – so all your personal information is safe with you. Read our handy FAQ section for more information.
Ninja Casino mobile and Netent Touch
The games available at Ninja Casino have been optimised for your smartphone or tablet. Netent Touch, for example, is a collection of Netent casino games that can be played on smartphones, iPads or tablets. These are all available at Ninja Casino. You can play any of these games on the move using any device powered by mobile operating systems including Android, iOS or Windows. The games available have the same game rules, play and pay out percentages as games played on a desktop. They also have the same engaging graphics. The biggest difference is the games have been adapted for touch screen, so any menus and buttons have been changed to ensure they can be easily found and used on smaller mobile screens. Search the hundreds of amazing games to enjoy at Ninja Casino – and start playing today.
Slot Games
€11,312,312
Divine Fortune
€32,547,698
Holmes and the Stolen Stones
Wait..
Play today and get the winnings paid out within 5 minutes