Play Live Blackjack at Ninja Casino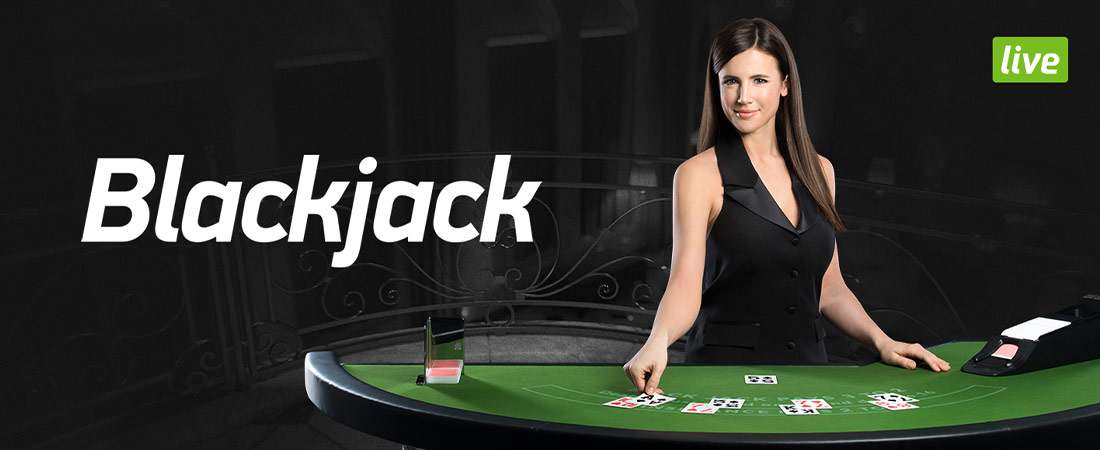 How To Play Live Blackjack Online
Few casino games are as popular or as exciting as blackjack. From the moment the first hand is dealt, to the second the dealer's last card is revealed, the tension never lets up. It's that high intensity, high stakes notion that's made blackjack the king of the table games. It's a casino game that's always carried a strong sense of glamour, and live blackjack online games capture this style and sophistication perfectly. Ready for some blackjack live action? Read on…
In blackjack, each card has a value, which is usually the number displayed on its face. The only exceptions are the Jack, Queen and King cards, which count as 10, and Ace cards, which count as 1 or 11 (depending on the player's preference). Your aim is to combine card values to get as close to 21 as you can without going over. Here's how it all works: You start with two cards – one upcard, one downcard Depending on how near you are to 21, you may choose to: 'hit' to take another card 'stand' to stop receiving cards and stay with the value you have 'split' your original cards into two separate hands, if they are the same value 'double down', when you double your original wager and commit to take just one more card You can keep taking cards until you choose to stop, or 'til you go over 21 – going 'bust'. The aim in blackjack is to beat the dealer. Players can do this in four ways: Reach 21 – 'blackjack' – with your first two cards without the dealer hitting 21 Get a hand higher than the dealer without going over 21 Let the dealer go 'bust' Draw a certain number of cards (usually five or seven) without going over 21 At the end of the game, each player reveals their hand. The winners are the players who beat the dealer's score and hand. Multiple players can win.
The Benefits Of Playing Live Casino Blackjack At Ninja Casino
Live blackjack is the most engaging way to play blackjack online. Here are five of the top benefits for blackjack players. Immersive experience. Playing live blackjack is just like the real thing. You connect with croupiers and competitors via video link, so it feels like you're in a real-life casino. When playing live blackjack, you'll see the game unfold in high definition and crisp sound – enhancing the drama, tension and euphoria until you can almost feel the cards between your fingers. At your convenience. Bringing live blackjack to your sofa. Forget about finding a casino in your nearest city, or buying expensive tickets to Vegas or Macau. Log on from your laptop or tablet at home, or play on the road with live blackjack mobile games on your smartphone. All you need is Wi-Fi or 4G. Get your practice in. Boost your confidence away from the pressure of the live casino. Play live blackjack online at home for the perfect dress rehearsal. Learn more about the game without the fast-paced pressure of the casino environment. Get to grips with blackjack on your own terms, without distraction. True casino gaming. Play with real dealers from the comfort of home. Many online casinos use random number generators to power online blackjack games. Not live blackjack. Real dealers, real cards and real outcomes deliver an authentic casino experience. Bring strategies into play that just wouldn't work with a computerised dealer at the helm. High-quality graphics. Be amazed by the most engaging, high-quality graphics ever seen at a live casino. Play live blackjack and you'll also get full-screen play. Master the table in moments thanks to the simple keypad controls.
Where Did Blackjack Start?
Blackjack was born in France in 1700. Based on popular card games Chemin de Fer and French Ferme, it was once called Vingt-et-Un, which translates as '21'. When '21' grew popular in the US, some casinos gave greater odds for hands that featured 'black jacks' (the Jack of Spades and the Jack of Clubs). This gave blackjack its modern name.
A Guide To Live Blackjack Strategies
While luck is important in many casino games, skill plays a big part in blackjack. Here are some simple tips for playing blackjack: Check the dealer's upcard. Make this your first move. For example, you might not want to wager too much if their upcard is an Ace, as their downcard might be a King (and total 21). Memorise basic strategy. 'Stand' when your hand is between 12 and 16 and the dealer's is between 2 and 6. 'Hit' when your hand is 12 to 16 and the dealer has 7 or upwards. Always 'split' Aces and 8s. 'Hit' or double down Aces to six. Memorising this can cut the house edge from 1-2% to 0.5%. Don't take insurance. You might assume insurance protects your hand. Don't – in reality, you're just betting on whether the dealer has blackjack. If you play insurance and the dealer doesn't have blackjack, you lose your wager. And even if they do, you can still beat them with a better hand. Start small. Play cautiously in your first few games. Remember, you're trying to beat the dealer – so get a flavour for how they work and adapt your style. Cap your losses. Set a limit for how much you're comfortable losing, and stick to it. If you're on a losing streak, stop playing – despite the comps and freebies you might be offered. Remember, though, there's still an element or luck in all games, so these techniques won't always produce winning hands.
How Do I Play Live Casino Blackjack At Ninja Casino?
To play live blackjack at Ninja Casino, follow these simple steps: Click the 'Deposit' button Enter your location, currency and deposit amount Select your bank and enter your account details Enter the gaming lobby and choose a table Play live blackjack We have two Ninja Casino-sponsored live blackjack tables, where you can take on the dealer and stand a chance of winning big. It's the first step on our way to launching Live Beyond Live – a fully immersive gaming experience. Blackjack is one of the most fun casino games to play. Play live blackjack and put our tips for winning to the test.
Slot Games
€11,312,312
Divine Fortune
€32,547,698
Holmes and the Stolen Stones
Wait..
Play today and get the winnings paid out within 5 minutes